December 16th, 2013
I thought I would give everyone an update on my latest painting. Bold Brush Painting Competition has a fun way for people to pick their favorites. It has nothing to do with whether or not you win the competition. It does give you, the public, a chance to show your favorites. Thank you for your support. If you go to FASO's Bold Brush contest page and you have a personal page on Facebook, you can "like" my painting by clicking the Facebook "like" button. They tell us how many likes we have, but not who has liked it.

My painting this month (December contest) is "Mother & Child."


December 16th, 2013
For the latest information on my latest painting.
November 3rd, 2013
I just wanted to take a moment to thank everyone who has taken time from their busy schedules to view my art here on Fine Art America. You have been a great encouragement.
October 28th, 2013

Just got back from a really terrific portrait painting workshop in Austin with Scott Waddell. It was a whole week of tremendous fun with fellow artists, and cram-packed with great information and instruction. The week was so full of information that there really wasn't time to finish a whole portrait, and that was OK. We got all the important points covered without having to complete a whole portrait. We spent two and a half days drawing from a live model and two and a half days painting from her.

A great big thanks to Danny Grant of Austin, TX who worked so hard to set up the workshop, as well as to Scott Waddell who gave the workshop.

To see what I managed to accomplish in the class, click the button below.
October 28th, 2013

Last weekend I was able to take advantage of a very unique experience. Michael Mentler did a portrait demo at Asel's for Canson (and showed off his new paint by Rembrandt called Mentler's Mustard). I must say that the only disappointing aspect to this demo was the fact that it only lasted for 1 1/2 hrs. The first half of the demo was devoted to drawing the anatomy of the human skull (Mr. Mentler is so fast that he drew three different versions). Then he painted a monochromatic portrait study from a live model. Each brushstroke was placed with such deft assurance. The painting that is shown in my blog The Weekend was done with pastel and acetone, but Mike Mentler said that you could do the same thing with mineral spirits. I know that he talked about his new paint and I thought he gave a quick demo of the difference in color and opacity between the Naples Yellow and his Mentler's Mustard. He gave us so much information so fast that I am sitting here scratching my head trying to figure out exactly where he used the Mentler's Mustard. I thought he painted a little bit of it out for us to see, but I don't see it on the paper and don't think he used it in this portrait. After he liquified the pastel with the acetone, he lifted out highlights and added more pigment to get the mottling and values.

Mr. Mentler mentioned to us that Ellen Eagle is going to give a pastel painting workshop at his studio in Carrolton, TX, in February. He also mentioned that he is giving a workshop in Woostock, GA, early in December (there may already be a waiting list).

The icing on the cake for all this was the fact that for a very nominal fee, we got the demonstration and several Canson samples as well, including a sample of the Bruynzeel graphite pencils, aquarel pencils, and the Cobra water mixable oil colors by Rembrandt (the last of which I have already tested out as kid friendly with my grandkids).

That was last weekend. This weekend, I got a chance to attend a demonstration at Herweck's by Barbara Jackson on the use of Golden Acrylics and mediums and again, we received a very nice sample packet of paints and mediums. I was especially interested in her explanation of the mediums. Barbara gave very clear and concise descriptions of the products and had examples and samples of each.

If you are looking for more information on your favorite art products, you may want to check out your local art supply shops for demonstrations and workshops. Enjoy the adventure!

Posted by Margo Schwirian at 10:46 PM
October 28th, 2013
Hello everyone!

Sorry for the delay in writing. I haven't been hibernating (it's too early in the season for that), but I have been burrowed down in my studio watching a fabulous set of DVD's by Bryan Neher. I won these DVD's in a drawing that Bryan did - see, you can win cool goodies by entering a drawing.

The first few sets of DVD's were review for me: Drawing, Value, Color, Edges - and review is always a good thing, especially when it can possibly add new insights or an understanding from a different angle. Brian gives an easy to understand analogy of value and color in terms of a dimmer switch and thermostat. There is a tremendous amount of good information in these first sets of videos. Then came the dessert! Painting Outdoor Light. Now, I have to tell you that it is going to take me awhile to get the cognitive information and the motor skills from that DVD into perfect alignment simply because there is so much great information, both verbal and visual, to digest. So I am now munching, or perhaps more accurately, I am at the ruminating stage. This is the information that I have so diligently been searching for. In fact, I actually had the information, but he helped to put it together for me - you will especially be interested in the effects of color on the different planes of the face in outdoor light. Brian clearly explains the choices he makes as he paints and he shows you his palette as he is mixing his colors. You will also be interested to know that if you don't want to have to wait for DVD's in the mail, and you know how to download a link, you can get a break in the price.

Whether you are interested in painting or not, you simply have to view his lovely work. I first came across his work on Artist Daily several years ago when Brian's wife used to post it for him on that website. The portrait in his Painting Outdoor Light is of his lovely wife. I am personally hoping that Brian has more videos up his sleeve to offer to us later.

By the way, Brian, if you read this, thanks for helping to make my summer delightful!

Posted by Margo Schwirian at 6:23 PM

Labels: Art Instruction, Artist Daily, Brian Neher DVD's
August 14th, 2013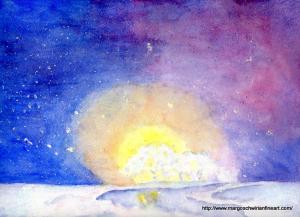 SUNDAY, AUGUST 4, 2013

I Read an Article

I read a comment by Michael Mentler (an artist whom I admire) and I came away with some interesting questions in my mind. He mentioned that you should keep your good paintings and destroy your bad ones. I found myself wondering, would I do that? I have been painting for a few years now - not full time. I have a job that doesn't include my painting, which obviously takes up some of my time, and I guess maybe some of my paintings are just for myself. Should I bother destroying these, or should I share them? I guess that remains to be seen. One painting in particular comes to mind. It is a painting that was painted soon after my last grandchild was born. He was beautiful, not like the average beautiful baby that is born. He was trizome-13 and only lived 36 hours, but they were an amazing 36 hours. A few months later, at Christmas time Matt's brother asked God, since he couldn't have his brother Matt there for Christmas, could he please have snow instead. And so it snowed for Christmas. Matt's brother lives in an area that seldom, but sometimes gets snow, and usually not for Christmas. Should I destroy the painting? I doubt that I would give it any awards in a contest. I also doubt that I will ever bother to destroy it.

I guess part of this reflection ties in with the recent death of my uncle. He lead a good and fulfilling life. He was 86 and left behind a great legacy - wife, kids and grandkids. The weekend was a time of letting go of him and celebrating his new life with his maker. It was also a marvelous opportunity to reconnect with family members, some of whom we played with as kids. All in all, it was a great weekend. One of my cousins opened his home up to us, and it was lovely. He and his wife have beautiful artwork. I loved every piece that I saw.

And so I guess I am left with the age-old question - what is good art?


It Snowed for Christmas


February 7th, 2013
Today, I got a chance to do something rather fun. You see, Valentine's Day is coming up and I always used to give my kids a Valentine card. Then they grew up. Then, grand-kids came along. So lately, I have been trying to think of a fun idea that my grand-kids would like and also something practical that wouldn't make more work for their parents and might even be of some help in some way. And so, the T-shirt! You see I painted their cat into some of my paintings. He was actually watching the dog instead of a lobster and the expression was so amusing that I grabbed my camera and the rest was history. Only now, I decided that I wanted to give them a very special way to remember their cat (the cat is getting up there in cat-age years). So, I went to Cafe Press and invented my grand-kids T-shirts. Here I will share the special Valentine invention called Dinner T-shirt (because Dinner was the name of the painting).

This is one of the fun things about Cafe Press. If you don't want to open a store with them, then you can simply go in and make a one of a kind item and send it as a gift. I was able to order them each their favorite color. I am having to let go of my inclination towards color harmony in order to give them their favorite cat and their favorite color T-shirt together all in one. I would probably never choose to combine burnt sienna with purple or scarlet red unless I was able to make up a transitioning combination of the two. At any rate, I will now see if I can somehow show you the two T-shirts. www.cafepress.com/margosart.783021653 (offered in several colors).

Well, this is the best I can do at this point. Hope you have enjoyed this and learned something new. To see the original post with pictures of the T-shirts you can click on the button below.